Archived home page from 2008 - click on 'home' to return to current page.


1.11.08 - Comrades in snow, once again it's all over for another year and our thoughts and fantasies are migrating to the northern hemisphere. But what a great season overall eh? lots of good cover and snow depth and a good crew of punters over the course of the season to top up the STSA coffers, and just in time I suspect. From my point of view it was particularly heartening to see many of our newer members 'having a ball' and embracing the downhill skiing side of things.

Below are some shots (click on the image to launch the slideshow) from Karen, Peter, Catherine and Matthew. This is from that mid week stay (16.9.08) they had when it dumped after everyone else had gone back to work. Lucky B@#$%#$s!
16.9.08 - 2.00pm I just spoke to Karen who is still up at the lodge with Peter and the kids. She reports that it started snowing heavily yesterday arvo (mon) about 3pm. As of 2pm today (tues) there's 50cm of dry fresh snow on the oldina balcony. Karen estimates approx. 30-40cm has stuck across the ski field. Yee Haa!!
31.8.08 The new Members Bulletin Board is now live! After the spam problems that we experienced with the old bulletin board, I pulled it off the site. It was an old product and poorly supported. I've tried out a couple of more secure / better supported products and I've settled on a new one for us to try.

In order to keep it away from the spam bots, you have to register (click on the 'Members Board' link to register) and then I manually review registration requests and approve them. Once that process is over and done with, you just log into the board each time you want to view or make a comment.

I know it's a bit of a drag having to log into these things all the time, sorry about that, but it's probably the best solution at this stage. Let me know if you experience any problems with the procedure so I can help you.

Cheers, Bishwa



Weekend 15/16 Aug 2008 - Elizabeth keeping the punters in line at the bottom of Mawson tow.
PICS (FLASH SLIDESHOW) - PICS (NON FLASH)

Fab weekend! 1.5 meters of snow in the car park...not! I have to say, and I'm probably not the only one, that the drive up the mountain on Friday night was becoming increasingly disappointing. After hearing reports of 1.5 meters of snow in the car park, well we always new that was an exaggeration, I was expecting around half a meter at least. However we weren't disappointed were we? all the snow was up on top resulting in the best cover since 2004!

Tow Man. Peter: "What a great weekend! Everyone weighed in and helped, there was a lot of fun, everyone got some time to relax, most had a chance to ski or at least enjoy the beautiful scenery, and we provided a fun weekend for lots of happy people. Thank you so much for all coming up to help - it made everything so much easier and people could have breaks without feeling guilty. The volunteers roster seemed to work well to give some more clarity to what we were all up to.
It was also great to have a good number of people there for the start up on Saturday morning (and a special thanks to Stephen and Elizabeth for warming the hut up for the rest of us on Friday night). There were lots of highlights, including seeing so many of the children skiing independently on the tows, the huge excavations done on both Mawson and Uni to retrieve pulleys (and the rope!) from deep below the snow, Hubert striding through the deep snow like a 20 year old, people leaping from the tow button to help damsels on snowboards in distress, and the tremendous teamwork of getting a new rope carried up the hill and spliced on for UniTow to operate on Sunday. And I think even Andrew Briggs agreed there was a LOT of snow (even if he didn't need chains in the car park!)"

El Presidento Steven: "I just wish to echo Peter's sentiments- it was great to see snow on the mountain again, and lots of people up there enjoying it. It's great for
one's faith in human nature to see people, even complete strangers, clicking together to see common goals achieved and sort out problems together, even when
they're not rostered on to do so, be they repairs, technical adjustments, even medical crises!"


NEWS! Thurs. 14Th Aug 2008: PRECIPITATION..... I've just been looking at the rainfall figures for Maydena. As you can see by the web cam shot from Tuesday 8.30, a good several centimeters had fallen already. Maydena reported 7mm to 9am on Tuesday. Plus another 9 mm to 9am on Wednesday and now 32mm to 9am this morning (Thursday). That come to 48mm so far and if we do the x10 rain to snow conversion again, then we could be looking at half a metre of snow so far - and it's still coming down! As I just said to Dave Watts in regard to his concern about all that snow, "you can never have too much snow, just pack a snorkel" I'm going to make that my motto!

PERTURBED..... Dave also pointed out that the rope on Tuesdays pic looks suspiciously like it hasn't been tied up. I'm hoping that the previous operators may have tied it to the pulleys. If it hasn't been tied up, the likelihood that it's been blown off and buried is high. So we'll need all hands on deck EARLY in order to dig it out again. It's a general rule of thumb anyway that the degree of work needed to prepare the tow for operation is in direct proportion to the depth of snowfall / severe weather received / time passed since last operation.

PARTICIPATION...... With that in mind, Peter has been rallying the troops via email in preparation for our upcoming tow duty this weekend. It was a great call to action and I thought his method of spelling out the tasks (and bods needed for each) was revealing and useful in putting our workload into perspective. Clubs, by their very definition, are all about shared participation aren't they?. And we are a ski club, and specifically a ski club dedicated to the pursuit of downhill skiing on Mt Mawson. Cross country skiing, bush walking and all those other lovely pursuits we enjoy up there, are secondary to our fundamental raison d'etre, an alpine ski club. As a ski club and member of the STSA we are also obligated to put in our bit for skiing at Mt Mawson. I personally feel strongly about this and I'm thinking that I would like to see some rewriting of either our constitution and/or terms of membership in order to enforce the participation of members in tow duty. We do this for our working bees, so maybe something similar would work for tow duty weekends. For example, once we have the tow duty roster set by the STSA , we could then nominate one or two of the four or so weekends that we will commit to for tow duty and draw up a roster of participants. What do you think?

See you amongst the snow this weekend!

NEWS! Tues. 22nd July 2008: I DON'T KNOW ABOUT YOU, but I'm excited! A cold Antarctic blast over the past two days has certainly put a good fall up on Mt Mawson. Looking a the rainfall figures for Maydena and doing a rough and ready x10 calculation, means that we could have a 12-15cm fall of fresh snow. Add to that the additional accumulation we can achieve from drifting on that slope and we should see the best cover this season so far.

NEWS! Sat. 5th July 2008: Season 2008 is up and running (in that special Mt Mawson kind of up and running way). Oldina clubbers were once again first off the bat.
From Peter Davis:
"A really big thanks to all who came up to assist with getting the tows running at Mt Mawson last weekend for the opening of the 2008 ski season.
The weather was magnificent on both days - with lots of snow, sunshine and mostly clear, still weather but the highlight was undoubtably the cameraderie of the Oldina members who put in to provide enjoyment for others.
It was a very challenging weekend in terms of equipment (rope) breakage, but we all learned a lot (particularly about icing and splicing). After completing three splices over the two days the sensible decision has been made to replace the Mawson rope with a brand new one so that other clubs do not have the worry of UV degradation of the rope leading to interrupted running. We particularly appreciated the assistance of Andrew Davey and Julian Oakes who were invaluable with the splicing, and of course to Hubert who amazed us all by striding up to Oldina in the snow in 35 minutes on Sunday morning, and then proceeded to lead a major re-joining of the Mawson rope so that tow operation could get underway.
Despite only running University for half a day on Saturday, and Mawson for half a day on Sunday due to equipment issues we still managed to make (a good bit of income) towards the cost of running STSA (Souther Tasmanian Ski Association). A great team effort. Hopefully we'll see you at our next tow duty weekend - 16-17 August."

NEWS!
Heavy snowfalls in early October 2007 plaster the mountain in a deep blanket of snow. Officially, the season was over and prior to this week of snowfall, there just wasn't anything skiiable. If you're like me, you would likely have given up on any further chance to get a ski in and written the 2007 season off as a one day wonder. Click on the Kurrowong below for a selection of pics taken on Saturday 6th October.

mawson cam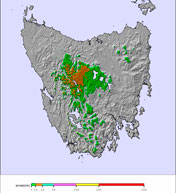 next 3 days snowfall forecast
national chart
visible cloud
jet stream synoptic