I'm late getting to this, but I'd just like to thank everyone for a great weekend and all your hard work, during our last tow duty. While there wasn't exactly epic proportions of snow, I believe that we managed to have a good time with what was there and our efforts seemed to be appreciated by the crew boarding that weekend. Cheers to season 2009, the season we thought we weren't going to get!

Will we get an October dump? if we do and it's looks reasonable, Misch and I will apply to the STSA to fire up the tow one last time.
B.
September 2009 school holiday pics. Launch the full screen version by clicking the icon in the bottom right hand corner of the player below. If you have any pics from this season that you would like to share, email them to me and I'll include them on the site. B.
3.9.09 - added another photo to the ones above, thanks to billyboy for this one. Shot of a lone snowboarder on Mawson run taken 3pm on Sunday. Click on the photo above to launch.
Monday evening 31.8.09 - Well it must be dumping up there, the cover is going to be awesome!

Monday 31.8.09 - What a great weekend just past. Literally heaps of snow and a very good/excellent cover across the mountain. After some troubles, the crew got Mawson tow up and running late arvo on Saturday. More snow fell Saturday night and right through Sunday. It was wild, 90 kmh + winds and white out conditions at times, a good Mt Mawson day really.

The tow ran all day, but not many punters were able to make it up the mountain. The Dobson highway was closed up until mid-late arvo. A few hardy souls who made it up as far as the other side of Wombat moor, walked the final K's.

Monday 31.8.09 - Thanks for a great weekend up at Oldina – it is always great to have company to share the experience. The snow was awesome wasn't it? – the most we have seen for years and years. Unless the weather goes back to 21 degrees and rain I think we might have the tows running on weekends through the school holidays – right up to Oldina's turn in three weeks. It was great to be able to help dig out the tows and get them running this morning – but I'm glad we weren't still up the top when the gale force blizzard conditions started to come through! We got some great pics (click on above pic.) – I've enclosed a couple of atmospheric ones from yesterday, plus a shot of placing the safety gate at the top of Mawson tow today. Peter Davis
2009 Feb-Aug home page (archived)


mawson cam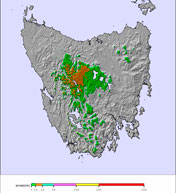 next 7 days snowfall forecast



national chart



visible cloud



jet stream synoptic